Well, what do you know about cameras? Only taking snaps and videos? Guys, you need a super description. Okay, let's get started. What does a camera actually do?
A camera is a device used to record visual images in a photo or video format. Then what does a camera app do? Camera App is an application inbuilt in your smartphones and tablets, which helps you to capture both images and videos. A camera app is an application that makes you forget about cameras. Every smartphone, tablet and palmtops have an inbuilt camera app that helps the users to snap their beautiful moments. However, the quality and the features of this inbuilt camera app vary according to the version or the platform of your phone. So, in my opinion, this is quite unfair that people cannot experience the best features if their smartphones are in low versions. But I think I have a better solution for this.
Open Camera Apk is a Android Camera that includes one of the best features of all. This is a completely free mobile application that helps its users to have a better camera experience. Using this Open Camera application, you will be able to take pro-quality snaps, selfies, videos, moving pictures, slow motion videos, fast forward videos, and many more.
Below shows some screenshots of this camera interface while shooting a video and capturing a photo using Galaxy S8 plus.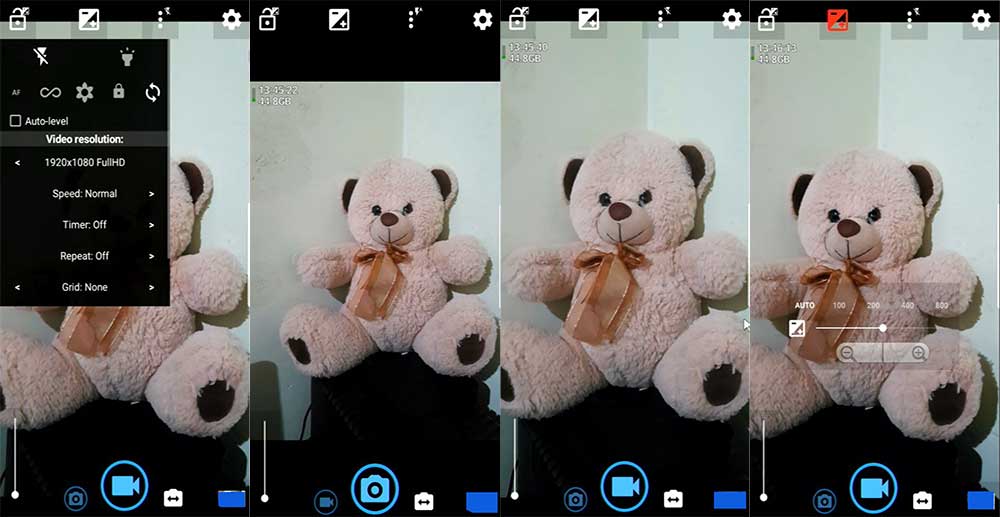 Let's talk about the features.
Open Camera App features you'll fell in love with
● Open Camera App bears a lot of functionalities such as support scene mode, white balance, double exposure, color balance, color effects, screen flash selfies, high quality videos and images, ISO mode, exposure compensation or lock, and many more.
● You will be provided a handy remote controller so you will be able to set time and also experience auto-repeat mode. There will be optional voice count downs, so you will be able to prepare for the snaps. Auto repeat mode makes a configurable delay in shots you take, giving some extra time to prepare for the shot.
● The voice command, 'cheese,' will help you to put a smile on your face while snapping the shots.
● The friendly user interface of the Open Camera application helps you to take advantage of the app without a single doubt.
● There are many options provided, such as Upside down preview option, optional GPS location tagging, Applying date and time stamps, Custom texts for snaps, video subtitles, location coordinating, compass directions for photos, and many more.
● Other special functions of Open Camera Apk is, Panorama pictures, Slow motion videos, Noise reduction in videos, dynamic range optimization modes, night mode including fewer lights, focus bracketing mode ad blocker and many other.
● Some features of Open Camera may not be available on every device. It depends on the version, hardware, and camera features of the device.
● Open Camera users many contents which are under third party licenses.
Overview
The open Camera application is offered by Mark Harman, and the application has over more than 50 million user downloads up to date. The app was released on the 17th of October 2013. The options and the features play a main role in the app and which is why this app is so famous among people. Why don't you try it on your own?