| | |
| --- | --- |
| Name: | B612 APK |
| Version: | v8.4.6 |
| Size: | 60.8 MB |
| Last Updated: | 1 November, 2019 |
| Requirements: | Android 4.3 and up |
| Package: | com.linecorp.b612.android |
| Category: | Camera, portrait |
| Play Store | Download via Play Store |
B612 APK is a photography application specially designed for selfies in your Android phone that allows you to apply dozens of filters to your images before sharing them via your favorite social networks. It is a completely free application and supported by 43 languages worldwide. This app, B612 is published by LINE Corporation. At first this was made for IOS but now this is available in android phones too. Moreover, B612 is a good photography app that offers a complete and easy-to-use interface. In short, an excellent app for those who want to make a good selfie using filters, effects and anything else you want.
Best Free Portrait Camera APK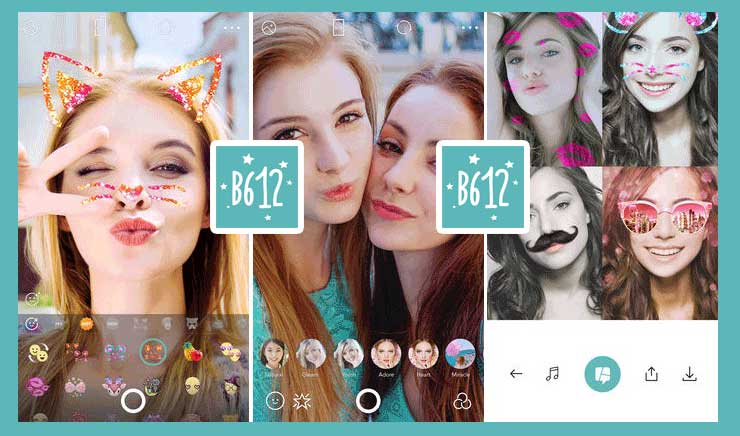 This camera apk allows you to take portrait photos like iPhone. No need to have separate depth sensors. If you have this app perform better than stock camera. You can also add portrait effect to your photos for free. This app has powerful photo editing capability.
B612 app has got more than 50 filters which suits to you in different ways. You can choose any of these items by simply sliding your finger along the bottom of the screen, where you can see a small preview of its appearance. You can also simply slide your finger across the image to apply a random filter. In addition to applying filters, B612 allows you to make collages with your images. You can make them with a regular selfie or a composition of up to nine photos, and even vertical compositions of two or three images.
The B612 also includes a timer, through which you can take remote selfies, and tilt-shift to play with the depth of field.
B612 Camera APK Features
More than 1500 different stickers.
Facial recognition stickers that can transform your face into a cute animal.
Bright effects and stylish analog filters to brighten up your day.
Various drawing effects that you can draw when you record a video.
Beauty effects in real time to get the perfect photo immediately.
Perfect skin with a single tap.
Find the shape of your ideal face with an easy-to-use slider.
Immaculate filters to your taste.
High quality filters which are perfectly suitable for selfies, food, landscapes or any occasion.
Quick access to your favorite and most used filters.
Easily create high quality music videos.
Combine your videos with exciting songs.
Various effects and different playback speeds for more dynamic music videos.
Meet cute characters that come alive with AR stickers (Augmented Reality features are only available on some devices.)
Take funny boomerang videos that are played in a loop.
Use gallery editing tools to make your existing photos more special.
Create collages where you can put all of your best moments in one place.
In addition to the features above, so much more, faucets are built into this app. These features will give your selfie a fun, horror, cute, and so on. The B612 apk also allows the user to take pictures of different dimensions. You can also adjust and change the brightness and other options.
Requirements
All you need is a phone with a camera (preferably a front camera) and it should work on Android 4.3 and higher. Add a touch of creativity and you're ready for the whirlwind.
Recommended for the following types of people:
Those who want to take cool or beautiful pictures of themselves.
Those who want to take pictures of themselves for their social network profiles.
Those who want to take beautiful pictures with their friends.
Those who want to take pictures for their blogs.