| | |
| --- | --- |
| Name: | B612 APK |
| Version: | v12.2.20 |
| Size: | 168MB |
| Last Updated: | 17th September, 2023 |
| Requirements: | Android 4.3 and up |
| Package: | com.linecorp.b612.android |
| Category: | Camera, portrait |
| Official Site: | b612.snow.me |
You can also use your default app store to install this app. First try to install apk file from above download link. If not click below link to open default app store page.
Version 12.2.5 (8th August, 2023)
Retouch
One touch, Cleanse, Cool Down, Fix Tone, B&W, Fix Shadow, Anti Glare and Structure features have been added.
Create filters
Create fun faces however you want.
Version 12.1.25 (30th may, 2023)
Retouch update
Correct parts with precision and detail.
A new Restore feature has been added that can neatly restore background warping!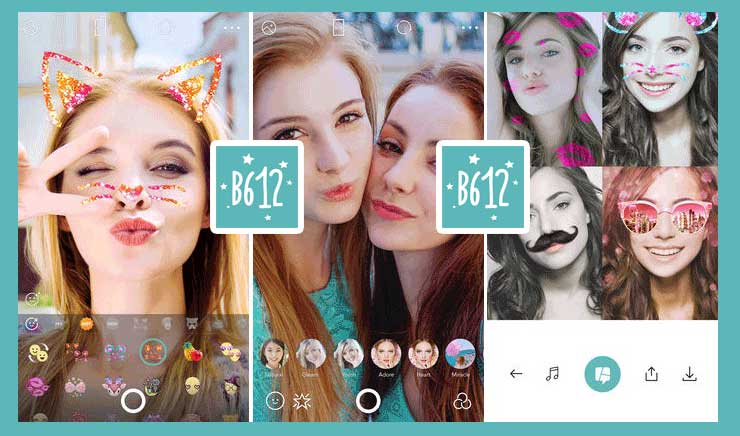 Photography often captures the creativity of the photographer, beauty of moments and also memories that fade with time. The photos we take last with us far longer than the moments we make. And it takes us back to relive those moments making us feel ever green.
One might think that a photograph is just a piece of paper. But that piece of paper can contain memories of a lifetime and also people we would want to cherish for life. People and moments spent with them change and pass, but the memories never will.
You might also think being a good photographer means having the best and most professional camera. But what if I tell you about a perfect camera app that's going to make you and all your photographs look like the most beautiful version of themselves? Yes, you got that right. The B612 Camera app brought to you by SNOW Inc is a camera app with an all-in-one camera as well as photo and video editor to make all those photographs look mesmerizing as ever!
Android Camera with perfect beauty filters and effects
The app comprises of many features to suit your preferences and photos look great. The app has a range of filters to choose from. If you are not satisfied with the filters on the app you can also customize your own filters, share it around to your friends and have an exciting time clicking those phenomenal photographs with your own filters.
The app also includes AR features and AR makeup routines that will allow you to get rid of all the time you spend doing all of your makeup just for a photograph. It has the best possible natural makeup look that is going to mesmerize everyone that lays their eyes on your photos. With the development of social media platforms, we all love a little bit of attention don't we? So, B612 Camera is the best choice to make all of those selfies look extraordinary!
The camera editor also lets you add additional beautifying effects and filters to all your photos and also lets you edit all those cool videos of yours with the most trending effects to make you look even more cool and exciting.
If you are someone who loves taking selfies and just wants to feel good about yourself, or even someone who would love to flaunt their photography and editing skills on social media platforms, the B612 Camera app is the best choice you could ever make.
All you got to do is download the app and make the most out of its amazing range of features that lets you click those mesmerizing and scintillating selfies and photos for absolutely free! So, hurry! go ahead and start clicking!
B612 Camera APK Features
Unlike using pre designed filters, now you can create your own filter. Create perfect unique filter than match your surrounding, skin color, etc.
Real time filters helps to test out filters without actually capturing the photo. That helps to find perfect background, lights and etc. to get most out of that filter.
No need to adjust or apply beauty effects manually to look good. Smart Beauty feature can recommend perfect face shape, filters, effects, etc. for you.
No need to do expensive and time consuming makeups before taking selfies for social media. Just use AR Makeup feature that look natural.
Does not need to care about lighting at all. Provide perfect photos anytime with advanced night mode feature.