In this digital era of photography, the camera apps definitely help you in turning your Android in to a creative studio. There are thousands of Camera apps that will help you in this aspect. MIX by Camera360 is a powerful but a very simple camera and image editing app you can have in your Android mobile. MIX by Camera360 is very creative powerhouse that helps you in unlocking your creativity. Try this wonderful app right on your fingertips now.
What is MIX by Camera360?
MIX by Camera360 is a powerful and a creative image editing hub for your Android. It is a very user-friendly due to its minimality. But it can enhance your images to new height withing few seconds by using only few taps. Its rich array of features will surely help you in creating your masterpieces. So, I request you to try this nice tool on your Android too.
Features of MIX by Camera360
Rich array of filters
The app MIX by Camera360 is enriched with various filleters to brighten your image. Choose the best filter for you from around 130+filters embedded in the app. There is a filter for every mood and occasion. These filters are of high-quality thus adding a professional touch to your creativity. In you are eager you can edit these filters the way you want and save them as your personalized filters to use repeatedly.
Powerful editing tools
MIX embraces countless editing tools. About 15 basic image editing tools are included here for your basic editing purposes. But if you are a pro or need more professional look, no worries. There are advanced professional colour editing tools that comes to play. Some of these tools includes HSL, Curve, Split Toning and Color Balance.
Effect enhancing textures
If you further need to enhance your image and make it more attractive, then go for these effect enhancing textures. There are about 60+ such effect enhancing textures to choose from. Experiment with all these effects and elevate your creativity to new heights using MIX.
Advanced Cropping & Transforming
Beyond the standard cropping features, MIX equips you with tools to correct perspective distortion. This is especially needed for architecture photography. This ensures that tall buildings in your photos stand tall and straight. The app goes beyond simple edits, allowing users to improve and perfect their arrangements.
Share your creativity
MIX by Camera360 allow you to share your masterpieces with all the MIX users around the globe. As well as this let you share your personalized filters too so that the others users also can download them. Shine your creativity with MIX by Camera360 now.
MIX by Camera360 is not your ordinary camera app. This surely is your creative powerhouse that lets your creativity shines. Hence, download this simple yet advanced image editing app on your Androids now and relish all its benefits. Make your ordinary image looks extraordinary with MIX.
Install Mix By Camera360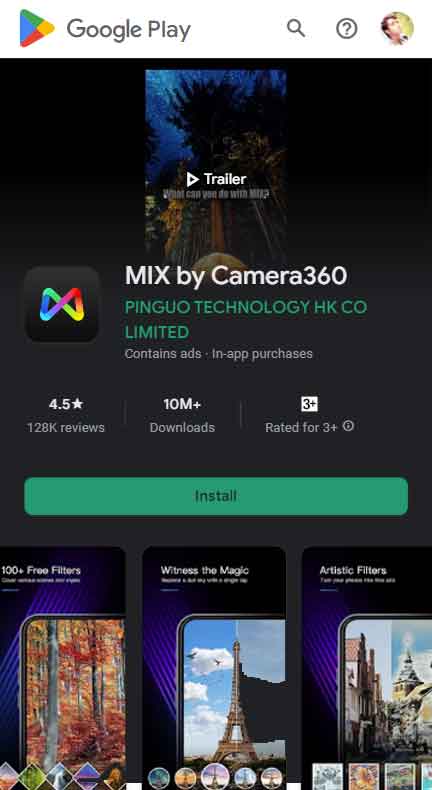 This is a free image editor for Android. First open Google play store application. Then navigate to search and type "mix by camera360". You will see this app on search results. Make sure to click correct logo. Now select "install" to begin installation.