In today's photogenic world selfies have their own language. There are numerous selfie camera apps that you could use to make your selfie look more vibrant and livelier. One such camera app redefining selfies are Ulike – Define your selfie in. it acts as a magic want in transforming your selfies in to more stunning than ever.
What is Ulike – Define your selfie in?
Ulike – Define your selfie in is one of the go-to-go apps you should have right in your pockets. If you have Ulike with you, then it is similar to having a professional photographer and a designer with you. This app surely makes your selfies standout with few taps.
Features of Ulike – Define your selfie in
Beauty Tools
Ulike includes many beauty tools uniquely to enhance your natural beauty. This let you smoothen your skin, brighten your eyes, whitening your teeth, add makeup effects, and many more all with just a few taps.
Vibrant Filters and Effects
The app Ulike – Define your selfie in offers a wide collection of filters and effects to add feel to your selfies. There is a filter for every style and mood. From vintage vibes to funky pop.
Edit the Background
The app allows you to change or blur the background of your selfies. This certainly give your selfie a professional and elegant look.
Real-Time Editing
As Ulike – Define your selfie in is equipped with the real-time editing feature, you can see the changes before you snap the picture. This let you adjust the settings to get the perfect selfie every time.
Collage Maker
By using Ulike – Define your selfie in create fun and engaging photo collages using multiple selfies. Ulike's collage maker allows you to merge different photos to create a single artistic arrangement.
Share your creations
Once you are done editing or capturing the selfie share your masterpieces with friends and family or on various social media platforms directly from the app.
Other features of the app Ulike – Define your selfie in
Some of the additional features of the app to be mentioned are as follows:
Includes variety of makeup and stickers options.
Includes pose guides techniques to look your selfie more professional.
Ability to adjust the body proportion.
Can adjust the intensity of each and every tool included here.
Preview the edits before saving.
Easy to use.
Free to use..
Download Ulike Selfie Camera app for Android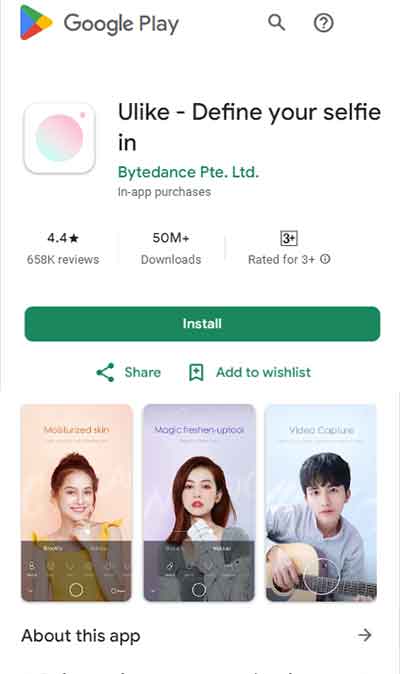 Ulike – Define your selfie in is a wonderful camera and an editing app to carry with you. It surely captures your best selfie and also helps you in adding a unique and an outstanding style to your selfie effortlessly. If you also want to shine up in all your selfies in every mood and style then this is the best app to have. Download Ulike selfie camera app now from google play store and enjoy relishing its benefits in capturing you now.
There are few alternatives like B612 Camera app, YouCam Perfect and Candy Camera. Try those alternatives on your free time.