B612 is a popular photo editor app that offers a range of editing tools and filters to enhance photos and selfie to make them more visually appealing. The app is available for both Android and iOS devices and has gained popularity due to its user-friendly interface and extensive range of features.
Here we are mainly focused on B612 photo editor. It is not a separate app. It is a built-in feature of B612 camera app. Follow below instructions to open photo editor.
Open B612
Check left bottom. You will see edit text with an image. Select it.
Now you see list of images of your photo gallery.
Select the image you want to edit.
It will open photo editor with the image selected.
Editing Tools and filters available B612
B612 offers a variety of features and tools that help to edit photos and enhance visual appeal. Below listed available options of this Android photo editor app.
Beauty: You can use beauty mode of this editor to enhance facial features, such as skin tone, face shape, and eye size, among others. This feature is especially popular among selfie enthusiasts who want to look their best in their photos.
Enhance: This tool can enhance low resolution or blurry images to be clear and high-resolution photos. No need to do any adjustments. Just select enhance button, High-res AI conversion will take place and shows the results.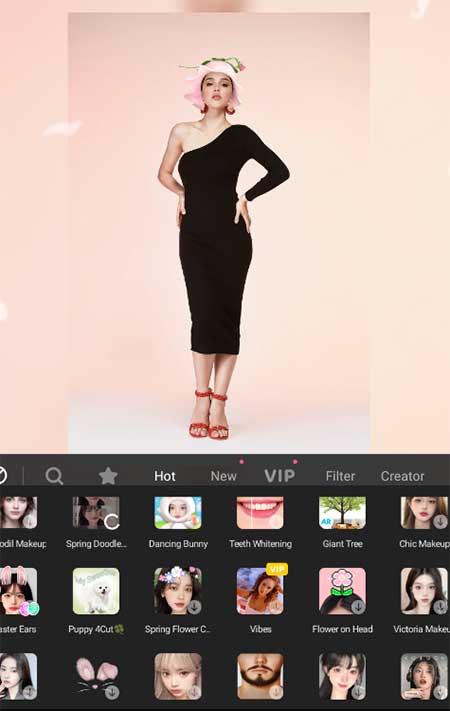 Remove: Those who use photoshop or other editing tools will know how hard it is to remove unwanted subjects of a photos. No need any kind of patience or precise movements to remove background, background objects, people, pets, etc. Just roughly highlight things you want to remove. AI will remove those things for you quickly.
Crop: As you know you have to use correct sizes to make them fully visible for audience if you want to print, publish on social media like Instagram, Facebook, twitter or etc. Easily crop photos using crop feature. It also provides pre-sets like square, 2:3, 3:2, 16:9 and many more. Remember both rotate and perspective tools available within the crop tool. If you want to rotate photo by 180 or 90 degrees go to crop and select rotate.
Filters: All available B612 filters can be seen on filter section of this editor. Select filters you want to add from the list of filters. Click here to learn more about B612 filters.
Stickers: Apply suitable stickers make your photos more interesting and attractive. Click here how to use B612 stickers correctly.
Face: Do you want to fine adjust or edit everything of your face. Select face tool. Face tool helps you to change shape of face, Eyes, Eyebrows, Nose and lips.
Makeup: Add makeup using photo editor. No need to waster time by applying those expensive makeups. Use this tool to add them after capturing your photo or selfie. Change hair color, lip color, eye color and ton more options to select.
Text: Add any text you want with the style you like. Select text tool and type the text you want to add. Then select "done". You will redirect to full text editor with all most all the editing tools for texts you want. Select the text style, size, color, orientation and many more.
Effects: Here you will see full list of B612 effects. Add your favorite effect using this Effects tool.
AR Filter: Add AR filter or AR Stickers like hat, flowers, moustache, any other objects and many more.
Brush: Paint as you like on your photos. You can use eraser to move your paints and many more.
Adjust: You can use Adjust tool to change photo colors, adjust color curves, HSL, brightness, shadows, highlights and many more.
Border: Apply nice and colorful border using border tool. Change color and border size as you like.
DLSR: Applying DSLR like background blur using this tool. Set DSLR intensity as you like to make your photo look like a DSLR photo.
Body: Is your body isn't perfect and want to change? Use body tool. You can use body tool to adjust head, Shoulders, waist, Hips, legs, lengths of legs and more.
Conclusion
Overall, B612 is a powerful and versatile photo editor app that offers a range of features and benefits for users who want to enhance their photos and make them more visually appealing. The app's user-friendly interface, extensive range of features, and customization options make it a great choice for anyone who wants to improve the quality of their photos. Whether you are a professional photographer or a casual user, B612 is definitely worth checking out.