In this visual story telling era photo and video editing apps play a crucial role in creating wonderful filmic contents. There are hundreds of such photo and video editing apps that helps you in creating such filmic contents. Of them today I am going to focus on PREQUEL AI Filter Photo Editor. Make this dynamic editing app your companion in creating wonderful art pieces.
What is PREQUEL AI Filter Photo Editor?
PREQUEL AI Filter Photo Editor is a pretty and advanced photo and video editing app you can have in your mobile. It is powered by artificial intelligence in transforming your images and videos. This deviates from the other similar apps due to its advanced technology. The app embraces thousands of filters and effects you can use in enhancing and transforming your photos and videos.
Features of PREQUEL AI Filter Photo Editor
REQUEL's collection of features deviates it apart from other traditional editing app as it provides the users with an immersive and in-built editing experience.
AI-Powered Filters
PREQUEL's specialty lies in its AI-powered filters. These filters are exactly developed to match with the iconic film styles, vintage aesthetics, and artistic moods. The filters wisely examine and enhance the image, adding depth, texture, and emotion to every shot.
Artistic Effects
Beyond filters, PREQUEL offers a plenty of artistic effects. They certainly can add touch of magic to any photo.
Precision Editing Tools
The app doesn't compromise on essential editing tools. Users can fine-tune their images with precision adjustments to brightness, contrast, saturation, and more. The app also offers selective editing tools for targeted enhancements.
Creative Enhancements
The editing of the app confidently goes beyond basic editing, offering a range of creative enhancements. Users can add realistic glitches, VHS effects, and cinematic transitions, transforming their photos into charming visual stories.
User-Friendly Interface
Interface of the is designed for effortless editing. The app's intuitive layout and straightforward controls ensure a smooth creative process.
Community Inspiration
PREQUEL raises a vibrant community of creators, providing a platform for sharing inspiration and discovering new editing techniques. Users can browse and apply edits from other creators, expanding their creative horizons. PREQUEL AI Filter Photo Editor is not just another editing app; it's an artistic companion that empowers users to express their unique vision.
With its AI-powered filters, artistic effects, and precision editing tools, PREQUEL transforms ordinary photos into extraordinary works of art. Whether you're a seasoned photographer or a casual mobile storyteller, PREQUEL has the tools and inspiration to elevate your visual storytelling to new heights.
Download and install Prequel Photo Editor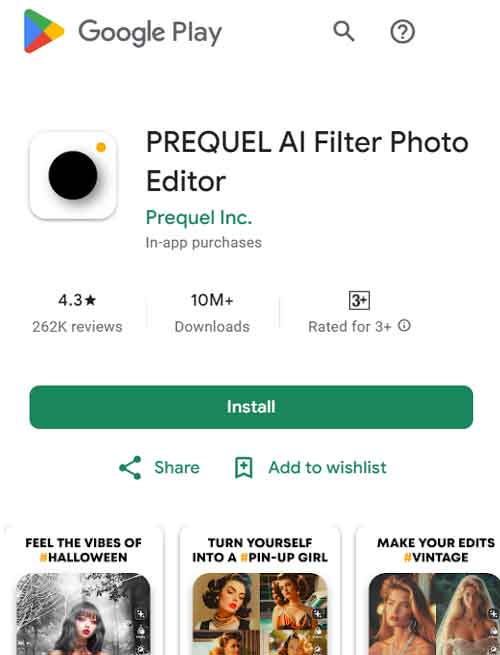 This is a free Android camera app with Photo Editor, Video effects editor and AI Filters for photos. You can easily download and install this app directly from Google play store.
First open "Play store" application.
Then navigate to search and type "prequel".
You will see this application appear on search results while typing. Select it.
Now select "install" to begin installation download and installation procedure.
Grant proper permissions when it asked.
Enjoy.
Make sure to try Android beauty camera apps like B612 apk, YouCam Perfect or Candy Camera. All those Android beauty camera apps are available for free download and use.